InfernalRestraints - Elise Graves - Scream Test, Part 1 (2023/HD/1.78 GB)
Elise Graves reaches new heights of pleasure and pain in part one of a two part special feature.
During one of the many predicaments she:
-is balancing barefoot on her tiptoes over a sharp grate
-has her ankles spread wide and locked apart
-is ball gagged
-has her elbows strapped together with her back arched
-has her nipples clamped tight and pulled up to the ceiling
-is anally impaled on a long thick electrified metal rod
-is being alternately whipped, teased and denied, caned and forced to orgasm in repeating cycles
-must endure her orgasms and punishment in total silence or an audio sensor at her throat will trigger a severe shock deep in her ass through the metal rod
-will continue to be shocked anally until she quiets down
Does the anal shock treatment actually serve to quiet her down?
How much pleasure and pain can she endure at once?
Will she finally reach her limit?
Released: 2023
File
Time: 00:32:19
Resolution: HD
Format: MPEG-4
File Size: 1.78 GB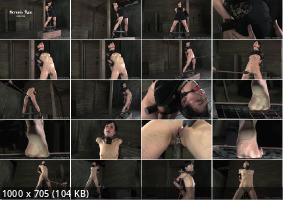 Download: Scream Test, Part 1 (HD/MPEG-4/1.78 GB)