InfernalRestraints - Calico Lane - For Bondage's Sake II (2023/HD/1.92 GB)
In part 2 of For Bondage's sake, Calico's suffering continues. Calico Lane is an experienced bondage slut and knows exactly why she is here today. She is here to sweat, scream and cum for our amusement. Nothing more, nothing less. We will use her as we see fit.
Kneeling, blindfolded and gagged with a headgear that affixes her head to a post, Calico is a mute lump of flesh for us to work over. The cane, vibrator and whip all make an appearance. Red welts quickly form stripes across her pale flesh, as the blindfold prevents her from anticipating the next blow. The vibrator elicits moans from beneath her strict gag as she squirms helplessly.
Once we have tired of this position, we shift her to a standing pose. An ass hook lodged deeply inside her, vicious nipple clamps and nose hook serve to remind her of her place. All of this exposed flesh makes for perfect target practice and we whip away at our leisure, watching as she gets pushed closer and closer to the edge. When we are ready to push her completely over the edge, we use our trusty vibrator. The orgasms rips through her restrained flesh and her eyes glaze over as she checks deeply into subspace. Calico is spent and sweating in her chains. We leave her languishing there for the next time we might want to play.
Released: 2023
File
Time: 00:34:55
Resolution: HD
Format: MPEG-4
File Size: 1.92 GB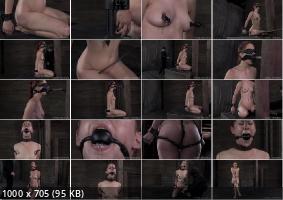 Download: For Bondage's Sake II (HD/MPEG-4/1.92 GB)