DeviceBondage - Marie Mccray  - Seeing Red (2023/HD/2.72 GB)
Marie is a slutty redhead who loves to suffer in grueling bondage. Her all natural body begs to be dominated and turned red from lots of heavy impact. Her mind is willing to go further than normal to endure the suffering that is store for her.
She is put in a grueling strappado to start and there is no mercy taken on her by Orlando. That cute innocent look she has, does nothing but inspire him to torment her and then taking an orgasm from has as a trophy.
Next she is bent over in a device that is so strict that during this slut's orgasms her feet raise off the floor and that's one of only a few parts of her body that can move. The torment continues, along with screaming orgasms.
Marie is then locked down atop a sybian, and although she is having orgasms, she is suffering more than ever. Her pale body is covered with painful pegs, from her tits, all the way to her cunt.
She is finished off with a brutal predicament while in a inverted ankle suspension. If Orlando doesn't get the results he wants, this whore will have to repeat the process until she gets it right.
Tagged: Brutal, Duct Tape, Dr Fires, Blanche Bradburry, Bondage Junkies, Brutal Bucks, Dolly Dyson, Big Boobs, Brutal Master, Cattle, Clothed Sex, Captured Kerry, Cinchedandsecured, Circumcised, Coralee Summers, Dominique, Devilynne, Butterfly Cuffs, Bdsm video sex, Extreme sex bdsm, Sex archive bdsm, Extreme porn bdsm, Rare bdsm, American bdsm sex
Released: 2023
File
Time: 01:17:45
Resolution: HD
Format: MPEG-4
File Size: 2.72 GB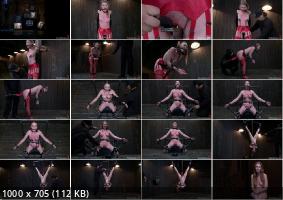 Download: Seeing Red (HD/MPEG-4/2.72 GB)