MetalBondage - Nora Sparkle - like a turtle (2021/FullHD/464 MB)
Please welcome Nora Sparkle to MetalBondage.com!! She is a local fun loving girl, a submissive, and always in for a new challenge! The first thing we made her try was the RigidSpreader Jo-2, because we know it's always fun to see girls try this unique contraption, rolling around on the floor, unable to escape. Nora is also locked in a heavy collar, which looks amazing on her! Of course, she rolled around too hard and she ended on her back like a turtle, completely helpless. This new girl-next-door, with her blonde hair, blue eyes, and large boobs could be our next big star! She wants to try EVERYTHING we have! Nora is available for custom shoots! She would be happy to do whatever you have in mind for her! Email mailto:
[email protected]
]
[email protected]
[/url] to order your custom video!
Tagged: BDSM, Custom SteelBound Collar, MB611, metal bondage, MetalBondage, Nora Sparkle, RigidSpreader Jo-2
Released: 2021
File
Time: 00:04:14
Resolution: FullHD
Format: MPEG-4
File Size: 464 MB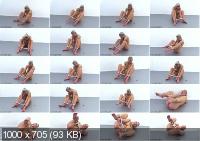 Download: like a turtle (FullHD/MPEG-4/464 MB)